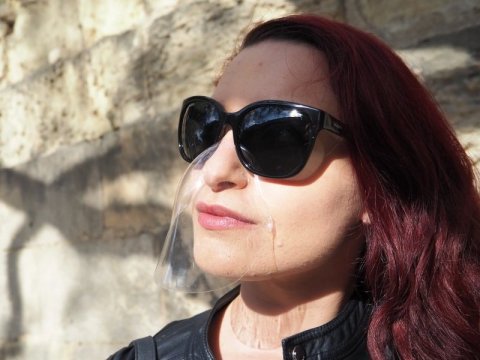 Shilma is the true first fully transparent reusable mask that can be worn both with a classic grip, behind the ears, as well as fixed to glasses or a specially designed support frame, without hiding the wearer's face. The masks are scientifically designed to help make breathing easier and safety more comfortable.
The Shilma mask can be used comfortably enough all day long, at school, at work, in cafes, restaurants and even during sports.
The mask provides complete protection against the spread of germs by projecting the expired air downwards, to the ground, using technology based on the Coanda effect. Shilma works also as shield and protects you from touching your nose or mouth, the main pathways where infections enter the body.
The mask is available in many styles:
Shilma™ for sunglasses or eyeglasses;
Shilma™ with a special designed frame;
Shilma™ with elastic thread.
Shilma protects without hiding your smile
Unlike other masks, the Shilma mask allows us to see each other's face and facial expressions, without altering the human and natural aspect of communication. This is extremely important to the social interaction of people, including language understanding.
It is cool and light
When you wear the Shilma mask, it looks and feels like you are not wearing a mask at all. After all, it is the invisible mask.
Shilma mask is face recognition technology ready. So you don't need to take off your mask to unlock your phone with face recognition technology.
Communicate through this fantastic fully transparent mask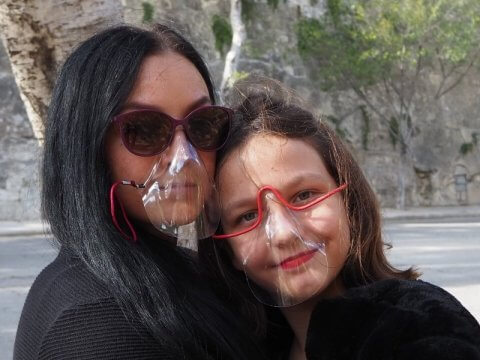 Every day we communicate with our family, friends, colleagues and other people, but only a small percentage of what we communicate during each of these conversations is verbal. Research shows that the interpretation of a message is 7% verbal, 38% vocal and 55% visual. The conclusion is that 55% of communication is "nonverbal" in nature.
The Shilma mask is so transparent that it is almost invisible, providing natural, empathetic communication and eliminates barriers caused by wearing traditional masks.
Comfortable and breathable
The Shilma mask has a smart, patent-pending design optimized for comfort and breathability, while providing assured protection. No more foggy glasses, no more lack of air!
Shilma is completely fog-proof.
Clean it and reuse it
Daily wash the mask with soap and water, with alcohol-based products or wipes. The Shilma mask can be reused for up to a month.
One size fits all
To be even more comfortable, the Shilma mask is produced in different sizes for men, women and children. Each size fits everyone anyway.
Scientifically tested and CE compliance
The Shilma mask has been tested by the National Institute for Laser, Plasma and Radiation Physics, Bucharest, Romania, Laboratory of Solid-State Quantum Electronics using a schlieren interferometer.
The masks are compliant with CE regulations 1935/2004 and 10/2011.
Characteristics: Anti-fog, Fluid resistant, Latex-free, Reusable, Non-sterile
Intended Use: Block transfer of aerosols, fluids, and sprays