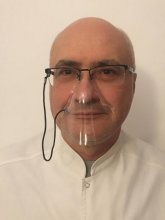 As a medical professional I was acquainted with lots and lots of masks during the hospital hours. None fulfilled my wishes, nor were in any aspect remarkable.
That's why I heralded with great joy the arrival of the Shilma-mask; it brought everything the others were missing:
lightweightness
always available due to its bond with the glasses
easy to wear, almost forgotten in 5'
no more foggy lenses
facial traits recognisable
and most important, efficient!
My wife and I shared the two weeks of quarantine she was submitted to, being positive to SARS Cov-2. Needless to say that in a couple of days she felt better and used just now and then the Shilma mask. Result: I tested negative after two weeks!
Thank you very much, I fully recommend this ground-breaking product, it will 100% fulfill your requirements!
Dr. Florentin Cretu, MD